Innovation 2.0: New behaviors, new opportunities
About the salon
The world has been flipped on its side over the past few years, and we're all riding the waves trying to adapt. Even as businesses look to the future, uncertainty prevails. It's hard to imagine what will happen not only in 2023 but also in years to come, amid rapidly changing consumer behavior and market conditions. What trends will we see in the next generation of category-defining products? How are organizations seizing the moment with new approaches to innovation? And how can companies harness the power, vision, and optimism of design to create great products and services that drive and sustain business growth?
Our panelists
Sandy Fershee is the senior vice president, head of design and creative at Tonal, an at-home fitness service that has revolutionized fitness and strength training with patented digital weight, machine learning, and expert-led personalized workouts. Before this role, Sandy led Ford Motor Company's human-centered design team D-Ford.
Drew Palin is the senior director of marketing at Gatorade, a sports-focused food and beverage company with products that fuel athletic performance. Drew leads the Digital Innovation, Growth Marketing, and Innovation Teams.
Michael Seum is the vice president, head of global design for health at Reckitt, home to many of the world's most trusted hygiene, health, and nutrition brands, including Lysol, Durex, and Finish. He was previously vice president for design at the German kitchen and bathroom solutions company Grohe. 
Introduction
The discussion was led by Tucker Fort, a partner at Smart Design, and Morgane Le Beguet, associate strategy director, and informed by Smart Design's special report they co-authored, "Welcome to Innovation 2.0," based on interviews with business leaders on how to navigate a post-crisis world. In a wide-ranging discussion, panelists spoke about the potential of personalization, why time and tenacity are needed to create viable ecosystems, and how businesses benefit from giving designers a seat at the leadership table.
Here are the highlights of the evening's conversation:
Create more personalized experiences
The personalization trend has been growing for many years, accelerated during the pandemic, and is likely to only get "bigger and bigger," according to Michael Seum of Reckitt. Enabled by new technologies and delivery methods, personalization has generated innovative, e-commerce subscription and service models—from pet food to meal kits and personal styling—that are expected to reach more than $120 billion in global sales in 2022. For Reckitt's Durex condom brand, this means offering an alternative to the "generic shelf experience" when purchasing the product. The company makes finding the best-fitting condom easier—by using either a free, downloadable measuring tool or by purchasing its "Fit Lab" that is sent to a customer's home—to measure their penis. This helps ensure they will find the right fit—and then order the product regularly through a subscription. The experience of trying and buying condoms therefore becomes more discrete and less stressful, Seum explained, eliminating the "shelf shame" and embarrassment many consumers feel buying condoms in a store. He foresees a variety of personalization strategies migrating from the intimate wellness sector across Reckitt's many brands and categories. These include household and personal care and hygiene, as consumers look for new cleaning solutions as they return to schools and offices. Another opportunity he mentions is vitamins, minerals, and supplements, wherein a customer gets a blood test to identify their deficient nutrients and then receives a personalized selection as part of a subscription. "I see a world in which this becomes a service opportunity too," he concluded.
"We weren't thinking about an ecosystem or anything like that…We were just trying to deliver the right sports nutrition they needed to help them win the tournament." - Drew Palin
Sandy Fershee witnessed a significant shift to personalization in her previous job leading D-Ford, where she established a human-centered design capability—understanding what people want and need and consumer behavior, a practice pioneered by Smart Design. At Tonal, the in-home fitness company is using personalization strategies to "change the way we think about working out," she said. Consumer trends such as nesting have encouraged people to think more about their homes, hobbies, and passions—and reassess their daily habits, patterns, and routines. At the same time, connectivity and other technologies have opened opportunities to remove stress and friction from people's lives. Tonal can make a workout less time-consuming—"more snackable," as she put it. "I can jump on Tonal for a quick 20-minute set that could potentially be between Zoom calls, [thereby avoiding a trip to the gym]." These personalized, digital services are popping up more often in areas of healthcare such as therapy and meditation that previously required planning, logistics, and research, according to Fershee. They are tapping into the need for people to improve their physical and mental health and seek guidance and the most efficient and effective practices to achieve these goals. Now, these services are more widely available and "sized in more accessible and affordable ways without ever having to leave your house," Fershee said.
Gatorade's engagement with personalization centers on the recently launched Smart Gx Bottle,  Gx Sweat Patch, and the ecosystem created with the help of Smart Design that delivers personalized hydration to all types of athletes. The company is building on this personalized relationship with customers as part of its overall goal to "democratize and scale sports science," said Drew Palin, and equally important, to grow its direct-to-consumer business. It aligns with the company's sustainability efforts: as liquids are heavy and expensive to ship, having customers reuse (and eventually recycle) bottles is essential. "We're innovating around the channel shift to e-commerce and sustainability," he said, adding that the brand is looking at offerings such as powder forms and shots that begin with a customer's personalized container and then "go beyond the bottle." 
Build ecosystems incrementally—and creatively
The leaders interviewed for Smart Design's Innovation 2.0 report underscored the importance of ecosystems in the current environment as a way to generate new business models and opportunities. For the Durex brand, it was the try-on condom subscription model, while Gatorade paired beverages with diagnostics, and Tonal integrated a workout program with digital footprints and programming. What these ecosystems have in common is they were created using an incremental, holistic approach nurtured by design, often starting with a single product and growing organically from that point. Gatorade's Gx ecosystem, for example, evolved from a single product and idea: formulating a unique nutritional drink based on sweat analysis and delivering it in a personalized bottle for each member of Brazil's national soccer team in 2014, the year the country hosted the World Cup championship. "We weren't thinking about an ecosystem or anything like that," Palin recalled. "We were just trying to deliver the right sports nutrition they needed to help them win the tournament." Brazil lost to Germany in the semi-finals, but the company nevertheless recognized both the need and the possibility of scaling the product and creating a broader platform. This has eventually grown to include a wearable diagnostic sweat patch, a connected hydration tracking bottle, an app, and personalized sports fuel formulas delivered via a small, specially designed pod.  "It all started with a utility, to help athletes, and then we built each piece to one another in steps and gained momentum, and that is delivering value across the company."
Fershee's experience at Ford leading her innovation team in developing a hybrid version of the automaker's bestselling F150 truck followed a similar development timeline. "We started with the hardware, as we were most comfortable with that, and then pushed the edges more holistically, she noted. The designers gathered insights by spending "deep time" with customers, observing how they used the vehicles as a hub for work, play, and adventures. Then they asked how a truck could be equipped to power and amplify these activities, whether it's for tailgating and preparing food, watching TV, or powering work tools. Ford also wanted to improve security and servicing, which is essential to a truck owner's work and livelihood. A wide range of solutions emerged that combine physical and digital components: ample electric power sources on board, exterior lighting controlled by an app, sensors and conductivity devices to monitor, report, and prevent theft, and a mobile servicing capability to avoid work downtimes. Fershee cautioned that such ecosystems require time to incubate, design, develop, test, and implement and that some companies may have to develop new capabilities to accomplish this goal. "You can't just flip a switch and have a seamlessly integrated ecosystem. It takes a few steps before you can move in that direction."
"You sell a faucet, and then, 10 years later, you sell another faucet. How do you get to an ecosystem?" - Michael Seum
Another essential component of building an ecosystem is utilizing design to imagine and visualize the possibilities surrounding a particular product. "The power of storytelling can help get you through this," said Seum, noting that such projects can be "super complex" to bring together the hardware and digital aspects and understand the customer journey. His former company, Grohe, for example, which makes kitchen and bathroom fixtures, was faced with a dilemma: "You sell a faucet, and then, 10 years later, you sell another faucet. How do you get to an ecosystem?" In much the same way Gatorade expanded beyond ready-to-drink sports fuel, Grohe shifted the product from one that simply delivers water to offering water filtration to compete with the bottled water industry. It leveraged technology and sensors to create a system that monitors a household's total water usage and detects and prevents water damage. By innovating and pivoting to meet these needs, Grohe created a new ecosystem from its line of faucets to drive revenue growth and create new value for both its customers and partners. 
Integrate design as a strategic capability
Design hasn't always been considered an essential part of the corporate culture. As Tucker Fort, the evening's co-moderator explained, it was often regarded as purely an aesthetic endeavor to make something beautiful, delightful, and desirable. While that's still critical, of course, design later became a tool for companies and brands to get closer to their end users. Now design is playing an even bigger role to help chart an organization's future. In an uncertain business environment, this is more important than ever. "Design puts the spotlight on building empathy and understanding human problems and making sure that's part of the picture again," Fershee said. All too often, companies are strong on leading from the business perspective and through the lens of technology, but if they can't bring this together with design, "[they've] missed the whole point. Designers must lead the way to find solutions for both human and business needs. It  can't be one or the other if you want to have the most impact and create the most value."
This requires having designers in more influential roles throughout the organization. Palin, who is not a designer, says they should be embedded across the company. At Gatorade, for instance, they are included in all weekly meetings called Base Camp, where they participate in conversations and get updates on all aspects of operations. As such,"they turn out things of great value and it happens organically because they're a member of the team." Perhaps most important are the consumer insights they contribute, which he said makes a business presentation "even more powerful."
Giving designers "a seat at the table," as Seum proposed, and having them engaged at the business level, also lets them be seen as more than merely offering a service to the company—or as he said, "waiting to be told what to do." He wants designers to occupy top leadership roles as a way to shift design from being thought of as a service to a strategic partner in a business, which, in the long run, is "one of the keys to unlock future innovation." Even though design is becoming more important in corporate culture, it can also be crushed by the realities of quarterly earnings and killed in conference rooms by rigid business decision-making. This is the moment when designers must call on their mental strengths and sense of optimism to push through with even greater tenacity, sometimes "breaking every single rule along the way."
"Design puts the spotlight on building empathy and understanding human problems and making sure that's part of the picture again." - Sandy Fershee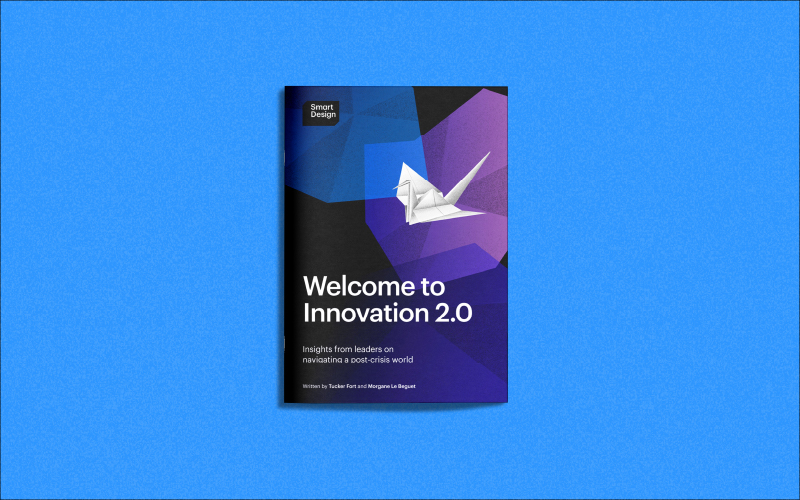 Welcome to Innovation 2.0
Insights from leaders on post-crisis innovation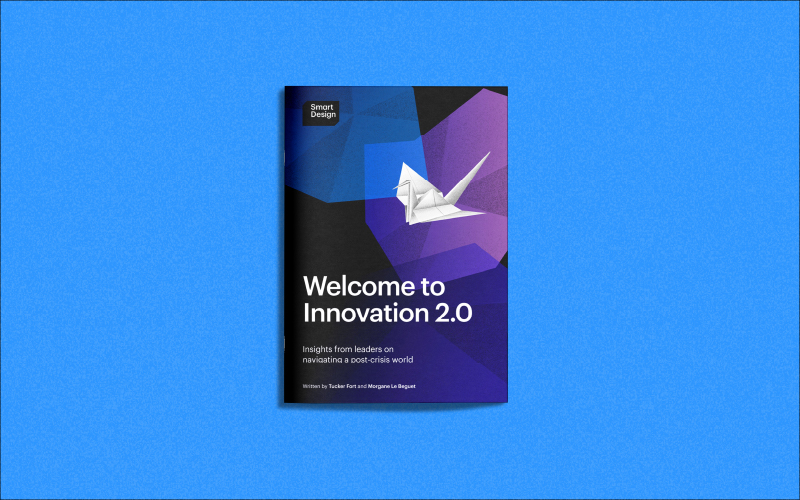 Welcome to Innovation 2.0
Insights from leaders on post-crisis innovation
Conclusion
Companies and brands are still scrambling to understand today's complex market conditions and rethinking operations to stay competitive in a rapidly changing environment. Yet new opportunities are emerging, from e-commerce subscription channels to highly personalized ecosystems targeting the profound shifts in consumer needs and behaviors. There is widespread recognition that designers are critical to helping companies as "creative connectors" to bring these solutions to market, and to better prepare them for what may come, because, as Seum said, they have the "unique skill set to visualize future scenarios."
Ideas for now
Leverage design as a superpower
Think of design as a creative force to help organizations navigate ambiguity and function with greater flexibility and speed, especially in uncertain and fast-changing conditions.
Invest in "human truths"
Go beyond identifying and tracking current trends to reveal what is likely to endure and prevail—to design for humanity and human-centered needs over a longer period.
Combine business and design capabilities
Ensure that a company's business and design leaders work together and have an equally influential role in decision-making to build on ideas, take risks, experiment quickly, and find the strongest possible solutions.
Aim for value creation
Assess new business models and innovations such as subscription services, digital platforms, and ecosystems not simply to follow trends but to anticipate and meet consumer needs and drive business value.
About Tucker Fort
Tucker, Partner at Smart Design, is a pioneering design voice. He thrives on creating market-defining consumer experiences that make the most of emerging technologies, most recently with Gatorade. Tucker has also worked on some of Smart's most standout work including OXO, HP, Nissan, P&G, Under Armour, Samsung, and Tiffany & Co. His deep expertise in research and strategy serves him well when inspiring teams to design with meaning. Tucker frequently speaks about innovation design and business, and you can find his writing in publications like Entrepreneur, Surface, Fast Company, Forbes, The Wall Street Journal, and Bloomberg/Businessweek.
About Morgane Le Beguet
Morgane is an Associate Strategy Director focused on Business Design. She brings expertise in research strategy and design thinking, blending analytics and design to help teams understand their business and lead powerful transformations. Morgane has worked across multiple sectors, including financial planning, consumer goods, ad tech, and hospitality. Her notable clients include J.P. Morgan Chase, Citibank Ventures, and Jean-Georges. She holds a Bachelor's in Business of Commerce from McGill University and a Master's in Strategic Design & Management from Parson's School of Design. 
Let's design a smarter world together