Predicting the unpredictable: Using foresight to better prepare for the near and long-term future
About the salon
The world is shifting more rapidly than ever before: nobody knows when the next pandemic, global conflict, or economic disruption will jolt us. Rarely have businesses been caught off guard this often and confronted with so many unknowns,  both in the short and long term.  Whether responding to a current crisis—be it inflation or supply chain issues—or preparing for what might be headed our way, companies across all industries must develop more and better tools to build resilience. Foresight methodologies that combine data analysis, interpretation, and scenario planning can help businesses be ready for a range of potential futures. In a time of unprecedented uncertainty, how can design and innovation leaders best leverage and champion foresight to ensure they're ready for the unexpected?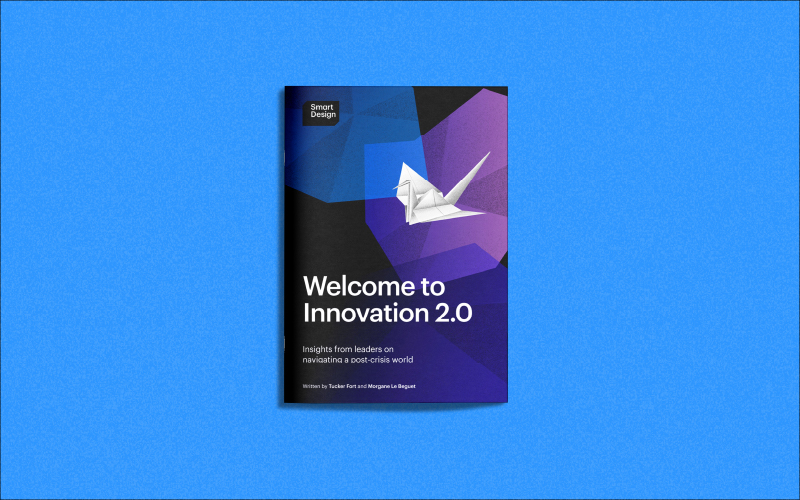 Welcome to Innovation 2.0
Insights from leaders on post-crisis innovation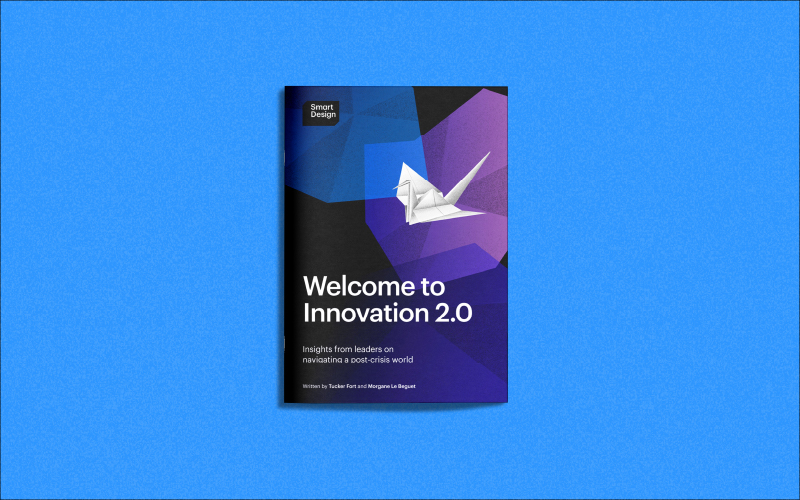 Welcome to Innovation 2.0
Insights from leaders on post-crisis innovation
Our panelists
Adam Conley is the human intelligence director for North America at Mars Wrigley, a U.S. multinational manufacturer of confectionery, pet food, and other food products. In his role in the company's confectionary division, Adam is responsible for driving insights for such iconic brands as M&M's, Skittles, and Snickers.
Maurice N'Diaye is an AI entrepreneur and the founder and CEO of the StraTech Descartes & Mauss, a new breed of AI-powered growth consulting firm. Founded in 2021, D&M models the future to build critical paths for companies to find growth and resilience.
Tameka Vasquez is a social futurist, educator, and speaker. She recently served as the first head of marketing for Google's Sidewalk Labs and is also a business school professor at the Stevens Institute of Technology in New Jersey.
Introduction
Our discussion was led by Cameron Hanson, Strategy Director at Smart, with contributions from Michelle Greenwald, Senior Partner at Descartes & Mauss. It was informed by Smart's deep experience in researching future needs and how design and innovation leaders are adapting to the new (ab)normal [see our special report on this topic].  We asked our panelists, all foresight experts, to talk about its growing importance in our "age of uncertainty," why companies need to embed foresight in the organization and find champions to promote its findings, and how companies are adjusting to shrinking product development timelines. 
Here are the evening's key takeaways:
Be ready for the future
Maurice N'Diaye of the StraTech Descartes & Mauss started the conversation by clearing up a common misperception: foresight isn't the same as forecasting or predicting the future. Rather, it's "a way to prepare for what the future may be." In the past, this often focused on something very conceptual—for example, trying to imagine life in the year 2050, replete with flying cars or a cataclysmic event that destroys the world. Today, foresight is more about modeling the future, he said, and leveraging foresight methodologies in a more "operational and actionable way."
For her part, Tameka Vasquez likes to introduce the concept of foresight by comparing it to the work of historians. "The historian studies changes and their causes and how they affect society," she explained. For companies and organizations, "foresight provides an opportunity to do the same thing and study change and what might occur at different points in the future." Similar to N'Diaye, she sees forecasting as a tool that enables organizations to actively engage and be a participant in that future. By practicing foresight, she said, they can make choices rather than being "a passive spectator."
Adam Conley of Mars Wrigley concurred with Vasquez about the connection between foresight and history, adding that "we need to look backward in order to understand what's going to move forward." He's particularly interested in the shifts and trends in consumer behaviors and how they evolve, as well as the bigger inflection points that may force more radical changes. Foresight, he continued, "can help us understand whether these [inflection points] will be the pinprick of something that starts an evolution." Equally important, he noted that foresight can tell us how such changes impact people and how they adjust, and "what that means for their engagement with others and the things around them."
When asked about disciplines related to foresight such as speculative design and design fiction—which also involve thinking about the future—N'Daiye emphasized that these are "one way of looking [ahead]  that are very specific and design-oriented." Vasquez added that all these approaches are connected, with speculative design incorporating the fields of psychology and sociology that might not traditionally be considered in business, and foresight focusing on collaboration and scenario planning.  
Foresight influences both decision- and strategy-making
N'Diaye underscored the significance of foresight in our post-pandemic environment, as a time characterized by unpredictability—or as the U.S. Army describes it, "volatile, uncertain, complex, and ambiguous, or VUCA." As a result, a CEO today is very likely to experience a "major crisis" during an average three to five-year tenure, and this requires strategic decisions not only built on what has happened in the past but that "actually [take] into account all the possibilities of the world." Business leaders, he argued, can no longer rely on stable assumptions about so many things—from geopolitics to prices and climate change. In this context, strategy has shifted from a knowledge-based approach "nourished" by experience to a systems-based one using holistic modeling capacities.
When utilizing foresight, N'Diaye recommended, "take into consideration a very high number of parameters that will probably reshape your business, and shift from a consumer-centric approach to a stakeholder-centric one. This will broaden the scope of understanding of all the actors and parameters that will impact your business, and change the way you build roadmaps on innovation, [allocate] resources, and even [assess] risk."
Adam acknowledged that changes are taking place today "quicker and quicker"—how we lived a decade ago now seems more like "ages ago"—and this is having a profound impact on business decision-making. As competition accelerates, companies and brands can use the lens of foresight to think about "what needs to be kept and what must evolve," in light of changing behaviors and market dynamics. For a company such as Mars Wrigley, with so many mature and iconic brands, Adam noted that one of the goals of foresight is to "showcase to our consumers that we're going on a journey with them and that these brands will continue to engage with them directly and in new ways."
Vasquez picked up on this theme, noting that foresight "comes into play when you think about how to get a potential consumer from Point A to Point B, and Point B maybe 5 or 10 or 20 years from now." Part of this process involves a "reckoning" with what is in your control and what isn't—such as natural disasters and political upheavals—and understanding how these factors could impact decisions. In this sense, she regards foresight as a problem-solving tool based not only on historical knowledge and what's worked in the past but also on projecting what may happen. For companies launching a new product or service, or start-ups with a shorter time horizon, foresight provides an opportunity to "challenge your imagination and strategically think about where you want to play and place your bets."
Apply multiple foresight methodologies
Discussing the practice of foresight, Vasquez said it's best to start with a "current assessment" that identifies all the trends, events, issues, and points of contention shaping "where are today" in a particular sector or market. This is often overlooked, she suspects because it's easier (and perhaps more fun) to just imagine the future. But she insists that "you really want to get a good sense of everything that's going to affect the future." Next, challenge these assumptions and views by posing opposite scenarios. For example, "what happens in a world where no one cares about the environment? Or when people are concerned about every single ingredient that's in their food? Reversing assumptions in this way allows you to create alternative realities," she concluded, "[to illustrate] how your domain can evolve, or maybe should evolve."
Adam focuses on another critical component of foresight: embedding its core principles and practices across an entire organization. Going forward, "foresight will not just live within an insights team," he said, noting that more and more large companies are moving in this direction as they grapple with a more competitive and fast-changing environment. Embedding foresight in individual departments enables each of them to plan for the future, whether it concerns raw materials, the supply chain, marketing, product development, consumers, or even finance. "Profitability is going to live and die by the way we can think ahead and do things differently in each of these spaces," Conley explained. "You can imagine that Amazon and Walmart want to hear [from us] about how we're preparing them not just for what we're launching today, but building over time."
N'Diaye emphasized, in addition to embedding foresight within the organization, the importance of "socializing the results of the process. " This step which consists in completing analytical capacities with social sciences expertise is, according to him, a step he regards as "probably more important than the insights themselves." Socialization is important, he reasoned, because foresight can be difficult to grasp, unlike, say, a financial report, as it imagines something "that does not yet exist." To ensure foresight has an impact, he advises companies to "spread the word" through webinars, videos, panels, and the like, or risk doing all the work to gain knowledge and ideas "only to have it end up on a table." Naming and framing the problem you're facing through foresight makes it easier to align the organization around a single truth," he stated. "This is a very powerful frame of reference to enable more efficiency, growth, and resilience."
Rethink time horizons
Panelists agreed that COVID and other global events have scrambled traditional company time frames as the pace of business cycles—along with other factors including technology advancements and changing consumer behavior—has accelerated. "Foresight is not necessarily talking about 2040," N'Diaye noted, "because the conditions you need for that model are hard to build." Instead, explore what might happen next year, or within two to three years tops. In general, he proposed starting any foresight process with an issue directly connected to the business today "so that you are actually solving something real." Otherwise, "it's going to be very theoretical."
Vasquez commented on timelines concerning her expertise with start-ups, remarking that short-term thinking is ingrained in the culture as companies try to raise funds and scale their business. Yet, she believes start-ups can also take advantage of foresight even though a one-to-two-year horizon is usually "as long-term as it ever gets" in their business model. For early-stage companies, as well as smaller businesses that don't necessarily have the wherewithal to take on a project looking 10 years ahead, "there's still an opportunity for practical foresight thinking that will have an impact on the decisions you make today."
Conclusion
Panelists clearly stated that they believe the practice of foresight will only continue to grow, with more and more companies leveraging it as either an integrated process or a stand-alone skill similar to an innovation team, within the organization. They believe that foresight can help organizations "break the bounds of reality" as they try to plan for unexpected crises and disruptions. Acknowledging that there's "no going back to normal" and business as usual, Adam said foresight will be part of "what it takes to set up for success at managing an organization in today's marketplace."
Smart starters
Imagine many possible futures
Understand that foresight is not aimed at predicting the future, but rather at preparing companies and organizations for changes and upheavals that may occur at some point in the years ahead.
Expand the scope of data collection
Create a strong capability to collect data on all the forces driving change in society, markets, government, and consumer behavior that may impact foresight, and implement analytics that balance algorithms, human understanding, industry expertise, as well as common sense.
Introduce "foresight literacy"
Consider ways to embed foresight practices whether integrated across the organization or as a stand-alone unit, and promote the concept of "foresight literacy" so all departments "speak the same language" and can communicate when imagining and planning for the future.
Leverage knowledge and ideas
Identify change agents and advocates in the company to ensure foresight findings gain traction and the knowledge and ideas about the future that have surfaced eventually influence decisions and thereby have a real impact on operations.
About Cameron Hanson
Cameron is a Strategy Director who leads multidisciplinary teams to tackle human issues for large organizations. An expert in design research and service design, Cameron uncovers the root of behaviors and motivations to strategize actionable paths for improved products and services. Notable clients include Capital One, Meta, U.S. Department of Veterans Affairs, U.S. Department of Agriculture, and Lexus. Cameron has an MFA in Transdisciplinary Design from Parsons School of Design and a BA in International Relations and Media Studies from Claremont McKenna College.
Let's design a smarter world together