Listen up
A new customer experience for hearing health
Amplifon
Client

Amplifon

Industry

Healthcare, Retail

Services

Customer Research, Service Design, Customer Experience Design, Visual Design
Client

Amplifon




Industry

Healthcare, Retail

Services

Customer Research, Service Design, Customer Experience Design, Visual Design
Amplifon has led the hearing health market for decades as a holistic provider of devices, diagnostics, and support services.
With the threat from new competitors emerging from adjacent categories, and shifts in regulation and technology, Amplifon needed to be at the forefront of innovation to ensure its future position in the category.
The $17B retail hearing care market is still characterized by a relatively low penetration. Approximately 15% of the world's adult population has some level of hearing loss, out of which only 37% adopt a hearing solution. It takes an average of seven years for a person to recognize and act on a hearing loss issue. Untreated hearing loss can lead to social isolation, depression and even dementia. Because hearing health is a complex and emotional problem, Amplifon needed to address the stigma associated with the hearing loss by creating better ways for people to seek help sooner.
SDN: Best Commercial Project
Amplifon's CX Transformation Journey won Best Commercial Project at the 2021 Service Design Network Awards.
DMI: Design Value Award Winner
Amplifon's CX Journey won Silver at the 2020 DMI Design Value Awards.
We're all ears
Amplifon partnered with Smart Design to create a global customer experience strategy and roadmap of initiatives to address unmet customer needs. The goal was to increase the value of their services to drive sustained business growth and provide greater consistency across the store network which has grown by acquisition. With more than 11,000 stores in 28 countries, Amplifon needed to unify the brand experience across locations and franchises. Our cross-functional team took a human-centered design approach by meeting with 160 people in five countries (US, UK, France, Germany, Spain, and Italy) to understand their pain points and motivations. By shadowing staff, audiologists, and customers, the project team analyzed customer value perception across the entire hearing care journey and identified key moments where there were major gaps in customers' expectations, as well as the greatest opportunities for innovation. 
Design-driven initiatives
Working with stakeholders from across the Amplifon corporate and franchisee organizations, five macro innovation streams were identified as opportunities for creating CX transformation to increase market penetration, loyalty and average selling price.  
Value equation reframe
Articulate the value in a relevant manner aligning with the brand and deliver consistently across touchpoints.
Omnichannel audiological protocol
Use current patented protocol (Amplifon 360) throughout the CX to capture data about customers and personalize the experience across the channels.
Product experience
Create a more engaging, consistent and transparent way to merchandise product both offline and online.
Loyalty framework
Define a program to engage with customers pre- and post-purchase to develop a lasting, ongoing relationship.
Store experience
Update the store experience to increase service efficiency and conversion while ensuring stores reflect the brand and CX strategy.
This future-proof strategy builds on Amplifon's brand purpose and drives the transformation agenda cross business functions, aligning the technology and digital innovation pipeline to customer needs and wants. The CX transformation builds on existing strengths to provide a seamless omnichannel experience that extends beyond the store, while supporting the wider strategic aims and providing effective measures to monitor progress.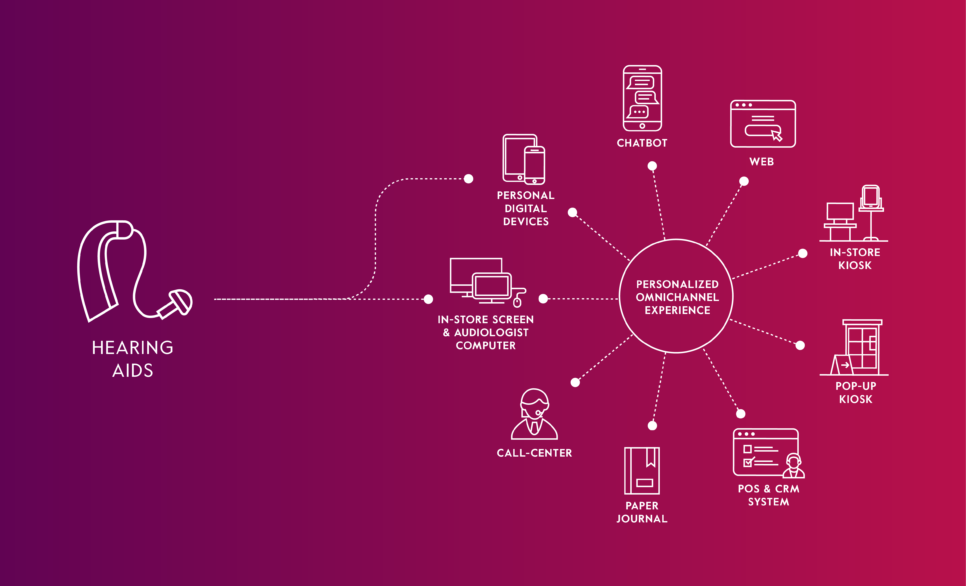 Delivering customer value
Social stigma surrounding hearing loss is still the strongest customer barrier to start the journey. By launching customer-centric initiatives around five macro innovation themes, Amplifon aims to normalize and consumerize the experience, making hearing care solutions more transparent, trusted, and accepted by prospects and existing customers.
 
Underpinning the CX strategy is the development of a digital ecosystem that enables Amplifon to personalize the customer experience for different customer types (such as those who require more or less guidance) leading to improved operational efficiency, customer loyalty, and adherence. The resulting holistic experience guides customers through understanding their hearing loss, finding the right hearing aid, adjusting to wearing a hearing aid, supporting their everyday lives and discovering new products based on their usage patterns.
The impact
The Amplifon Product Experience began rollout in 2018 and includes a new product line, digital ecosystem in the form of a companion digital product, audiologist tool, a new store merchandising experience, and four pilot stores in Europe and Australia.
 
By the end of 2018 in Italy, 90% of Amplifon's sales came from branded units. Amplifon gathered positive data on adherence, with customers using their products an average of seven hours per day and app users accessing the companion app three times per day. This global CX initiative allowed Amplifon to spur broad internal changes that resulted in a more responsive and innovative organization. Amplifon has created a formal CX function within the corporate marketing organization and attracted new talent to fill new CX roles.
As a result of this work, and other strategic initiatives, Amplifon's stock performance increased by 82% in 2019, aided by expansions and acquisitions, including a large acquisition in Spain. By strengthening the customer experience and service offerings, Amplifon has also seen a +1% increase in average selling price of new products compared to pre-launch.
90%

Amplifon's sales from branded units in Italy by the end of 2018.

82%

Increase in Amplifon stock performance by the end of 2019, aided by expansions and acquisitions.
Let's design a smarter world together