Helping hands
Giving arthritis patients more good days with a range of self-injection options.
UCB
Client

UCB

Industry

Healthcare

Services

Customer Research, Industrial Design, Design Engineering, Human Factors
Client

UCB




Industry

Healthcare

Services

Customer Research, Industrial Design, Design Engineering, Human Factors
Design with patients in mind
That's what Belgian pharmaceutical company UCB set out to do when they joined forces with Smart and OXO, the brand behind the Good Grips line, to help Rheumatoid Arthritis (RA) sufferers inject their medication with greater ease and confidence. Together we designed and developed a new family of user-friendly products that puts patients in control, giving them more options, more independence and more "good days."
The collaboration between Smart, UCB and OXO is a success story in more ways than one. Not only is it a prime example of the value of co-creating ergonomic products with real patients. It's also proof that great things can happen when multiple clients band together to improve people's lives.
UCB spent years developing CIMZIA®, a new drug to tackle RA that can be administered at home. But UCB still wanted to make the self-injection process easier and less painful for RA sufferers who struggle with traditional syringes due to limited dexterity. Together with longtime client OXO, Smart led the team to develop the CIMZIA Prefilled Syringe, the first syringe designed with and for RA patients.
Click, click, done
The second product we developed for CIMZIA, the AutoClicks® Prefilled Pen, was designed to appeal to people who don't like needles. The disposable, autoinjector pen, which comes prefilled with CIMZIA, eliminates the need to deal with medication or needles. It's a button-free delivery system with a wide nonslip grip. Patients can follow their injection progress through a large viewing window, giving them even more control knowing they've safely injected their medication.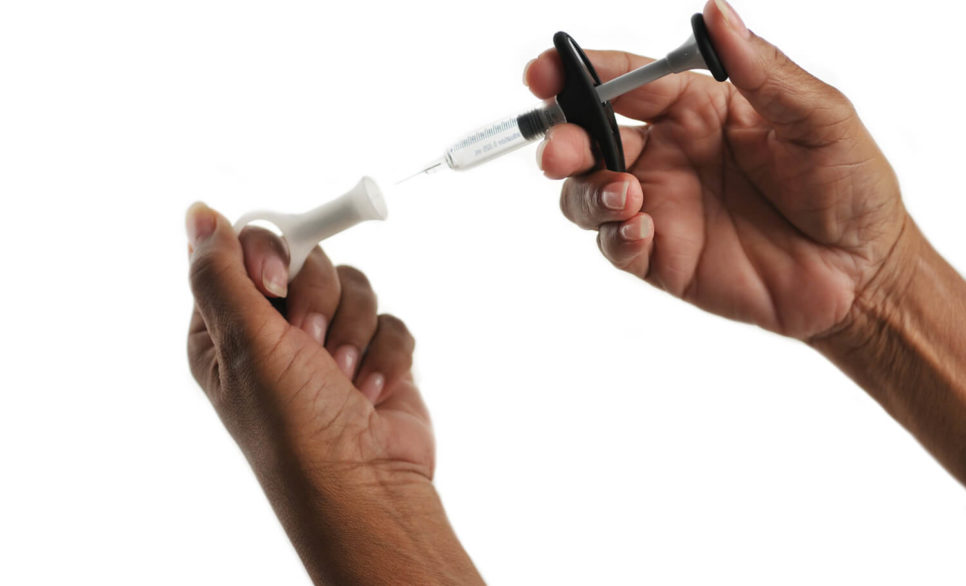 Real patients. Real progress.
Not only did we conduct research on ergonomics and biomechanics to address a variety of dexterity issues; we also considered the emotional associations with having arthritis. To develop the family of CIMZIA products, Smart's research and design teams followed the daily routines of the people who live with RA every day. These RA "ambassadors" were an integral part of the design and prototyping process, providing input on improvements at every step.
Collaborating close to home
OXO, a longtime Smart client, is a brand that's all about making people's lives easier. In fact, Smart helped them pioneer their extensive line of ergonomic products. So it was serendipitous when, during UCB's earlier in-house research efforts, they discovered that many RA sufferers loved OXO products for their user-friendly design. UCB approached OXO, OXO approached Smart, and a happy collaboration was born.
I see many patients whose joints have been destroyed by this painful disease, so having a new choice is welcomed. Like most of us they also tend to find it a challenge self-injecting because of a needle – with this new pre-filled pen the patient doesn't even see the needle which may take some of the nerves and fear away."
Dr. Ravik Mascarenhas
Rheumatologist
Let's design a smarter world together